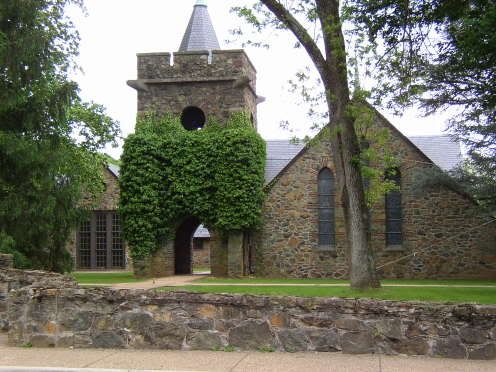 O God, thou art my God; early will I seek thee: my soul thirsteth for thee, my flesh longeth for thee in a dry and thirsty land, where no water is. Psalm 63:1 Many think that they need to go to church to seek God or have fellowship with Him. Yes, there are places which promote solitude of heart and communing with the Lord seems to be sweeter there. When my husband and I were out sightseeing one day, we came across this quaint and very old church (built in the 1800's) in Virginia. But is this the only place we can find solace?
We also visited the Natural Bridge in Southern Virginia. God's creation is so beautiful and the work of His Hand is breathtaking. Just walking the trails to get to the bridge were peaceful and serene. All we could hear was the babbling of the brook as it led us to a small waterfall. As we sat through the Genesis story that evening and watching the light show in conjunction with each day of creation, God's beauty combined with His Word and our hearts were full.
One does not need to look far to see the Lord at work. I believe we live in one of the most beautiful areas in our country, near the Blue Ridge Mountains. This photo was taken during one of our motorcycle rides through the Blue Ridge and our eyes could not believe what they were seeing! It was a gloomy day, the rain was coming in and we were hurrying to get to the valley before the storm came in. What a breath taking scene, to say the least. Again, God's handiwork spoke to me and filled me with awe for a God who intricately created this earth and its beauty.
This same God who created all this, created me as well and all my intricacies. I will praise thee; for I am fearfully and wonderfully made: marvellous are thy works; and that my soul knoweth right well. (Psa 139:14)
Don't think we're wonderfully made? This picture of the inner ear shows us just how intricate our bodies are and reveal a side of God that should overwhelm our spirits! This is only our inner ear, my friends! I could post picture after picture of other parts of our bodies that are equally intricate. But the point is that God is the creator of them all.
I shared all these pictures just to say that our Lord God should be sought, no only in church or in nature or when we examine His creation, but also we should be seeking to learn more about Him and becoming more like His precious Son. We should seek after God as if we are dying of thirst and can't get enough of Him when we do come to commune with Him. We can find these beautiful places in our mind's eye even if we are sitting in our private place as we do our devotions and studying.
Dear God…
May I seek You early
Before the start of day
And cling to every word
As I go along my way