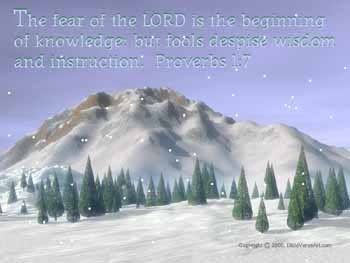 Serve the LORD with fear, and rejoice with trembling. (Psa 2:11)
Where is the fear of the Lord today? The "love" gospel is so prevalent in today's churches that the people have forgotten that this same God who loves, also judges sin. Yes, we are forgiven of our sins but we will still be judged here on earth for the sins we commit. I've seen time and time again a born-again teenager making the wrong decision and suffering the consequences of that decision. A wayward Christian teenage girl gets pregnant – the baby will always ever be a reminder of that sin. The wayward Christian teenage boy who hangs out with the wrong crowd and is arrested for armed robbery – waking up each morning in a prison cell will ever be a reminder of that sin.
Where is the fear of the Lord today? Are we so smug in our religiosity that we think God will not punish us? Yes, our eternal punishment has been taken away because of Christ's precious work on the cross! Thank You, Lord! Be not deceived; God is not mocked: for whatsoever a man soweth, that shall he also reap. (Gal 6:7) Do you really think that you can continue with your pet sins and not be punished? Are you a liar? Are you an adulterer? Do you curse? Are you never happy unless you're stirring up trouble? Are you prideful? But if ye will not do so, behold, ye have sinned against the LORD: and be sure your sin will find you out. (Num 32:23)
Would you allow your own children to go unpunished for doing wrong? If you did, what kind of children would you be raising? They know that you love them. But if you did not punish them, they would come to the realization that you did not care enough to do so. Why should it be different with the Lord? We must remember that God does love us, the Word is filled with God's love and compassion for us. However, the Word also teaches us to fear God. The devils fear him and tremble – they know the Judge and what the judgments He can meet out.
If you do not fear the Lord, you are not growing in Christ. Today's world bucks authority. The world was not always like this. When someone met the President or a King, there was an awesome respect and fear of that authority. Even just 50 years ago, people looked up to police officers and had a healthy fear of authority. Not so today. So much so, this same lack of fear for authority has come into the body of Christ and Christians think they are getting away with sin without fear of chastisement from God! How sad! Let me share some verses with you. May I encourage you to study on your own and develop your fear of the Lord so you can have wisdom and knowledge. Then you will be able to serve with fear and rejoice with trembling.
Wherefore now let the fear of the LORD be upon you; take heed and do it: for there is no iniquity with the LORD our God, nor respect of persons, nor taking of gifts. (2 Chr 19:7) God doesn't have favorites nor can we "buy" our way on His favorites list by our good works, trying to sweep our sin under the rug.
And he charged them, saying, Thus shall ye do in the fear of the LORD, faithfully, and with a perfect heart. (2 Chr 19:9) You cannot fear the Lord when you continue in sin without repentance. If continuing in sin does not bother you and you are not under conviction, question whether your salvation be true.
And unto man he said, Behold, the fear of the Lord, that is wisdom; and to depart from evil is understanding. (Job 28:28 ) Fearing God's punishment keeps us from sinning further. When we finally recognize sin at our door and run from it, we finally understand that this keeps us from God's punishment. Remember, once we are saved we are no longer judged on where we will spend eternity. However, we will be "punished" here on earth for our sin. Don't be fooled.
The fear of the LORD is clean, enduring for ever: the judgments of the LORD are true and righteous altogether. (Psa 19:9) Nothing will get passed the Lord.
Come, ye children, hearken unto me: I will teach you the fear of the LORD. (Psa 34:11) Teach your children that the same way you punish them for doing wrong, God will punish them also. Our homes are a "proving ground" where we are to teach our children this healthy fear of the Lord.
The fear of the LORD is the beginning of wisdom: a good understanding have all they that do his commandments: his praise endureth for ever. (Psa 111:10) Notice the "good understanding" – those who fear God have wisdom and understanding – they know to stay away from sin because they know what will happen otherwise. Isn't it the same with our children? If our child lies and gets punished accordingly, the child won't be quick to do it again. As the child is trained, he gains wisdom and understanding on how his parents will react to his wrong doing.
The fear of the LORD is the beginning of knowledge: but fools despise wisdom and instruction. (Pro 1:7) Are you continuing in your sin, thinking you've gotten this far without being punished? Ah, you are the fool. You are hating the wisdom and instruction from the Word which warns you of punishment to come.
For that they hated knowledge, and did not choose the fear of the LORD: (Pro 1:29) Notice that hating knowledge and not fearing the Lord is a choice? One chooses not to fear God.
The fear of the LORD is to hate evil: pride, and arrogancy, and the evil way, and the froward mouth, do I hate. (Pro 8:13) How does one develop a healthy fear of God? Start by hating evil, pride, arrogancy, evil ways, and a froward mouth. As you begin to hate that sin that so easily gets you side tracked, you will start learning to fear the Lord.
The fear of the LORD is the beginning of wisdom: and the knowledge of the holy is understanding. (Pro 9:10) Again, this fear of the Lord produces wisdom and understanding. Over and over this is repeated – do you think God is trying to teach us something?
The fear of the LORD prolongeth days: but the years of the wicked shall be shortened. (Pro 10:27) What a lovely promise!
In the fear of the LORD is strong confidence: and his children shall have a place of refuge. (Pro 14:26) When you know you are doing right according to God's Word, you do not fear punishment – you have a strong confidence that God's chastisement will not fall upon you. Knowing this is comforting – we have refuge in God when we fear Him.
The fear of the LORD is a fountain of life, to depart from the snares of death. (Pro 14:27) What a lovely picture!
Better is little with the fear of the LORD than great treasure and trouble therewith. (Pro 15:16) Oh how true… it is better to be poor and fear the Lord than to have riches and continuing in sin only to receive its consequences.
By mercy and truth iniquity is purged: and by the fear of the LORD men depart from evil. (Pro 16:6) As we grow in Christ, we begin to understand that when we continue in sin, God will "spank" us. Because of this wisdom we have gained, we are not so quick to sin.
Let not thine heart envy sinners: but be thou in the fear of the LORD all the day long. (Pro 23:17) Yes, sinners seem to be having a good time. But God is not mocked, their punishment awaits them with eternity in hell. Our eternal punishment has been removed because of Christ. We're encouraged to continue in the fear of the Lord all day long so we can avoid those spiritual spankings.
And the spirit of the LORD shall rest upon him, the spirit of wisdom and understanding, the spirit of counsel and might, the spirit of knowledge and of the fear of the LORD; (Isa 11:2) Fearing God brings rest for us – not only for our eternal souls because we got saved, but rest in knowing that as we stay away from sin, chastisement will not follow.
And wisdom and knowledge shall be the stability of thy times, and strength of salvation: the fear of the LORD is his treasure. (Isa 33:6) We all have experienced the peace in our lives when we are striving toward righteous living. We also have all experienced the unrest in our hearts when we are sinning. Fearing God gives us stability and strength. God says this fear is a treasure!
Take heed, my friend. Don't let today's love gospel fool you into thinking that because your eternal punishment has been secured by Christ that you can continue in your sin without repercussion. That is not fearing the Lord. What shall we say then? Shall we continue in sin, that grace may abound? (Rom 6:1) God forbid. How shall we, that are dead to sin, live any longer therein? (Rom 6:2) We are suppose to be dead to sin. It does not mean we won't sin – it means we will sin less and less as we grow in Christ. How can we be a light to an unsaved world if we are no different than they are? The world does not fear God – we are to be different. No wonder the Word has much to say about fearing the Lord.
Come, Children, Learn to Fear the Lord
Isaac Watts
Come, children, learn to fear the Lord
And that your days be long,
Let not a false or spiteful word
Be found upon your tongue.
Depart from mischief, practice love,
Pursue the works of peace;
So shall the Lord your ways approve,
And set your souls at ease.
His eyes awake to guard the just,
His ears attend their cry;
When broken spirits dwell in dust,
The God of grace is nigh.
What though the sorrows here they taste
Are sharp and tedious too,
The Lord, Who saves them all at last,
Is their supporter now.
Evil shall smite the wicked dead;
But God secures His own,
Prevents the mischief when they slide,
Or heals the broken bone.
When desolation, like a flood,
O'er the proud sinner rolls,
Saints find a refuge in their God,
For He redeemed their souls.