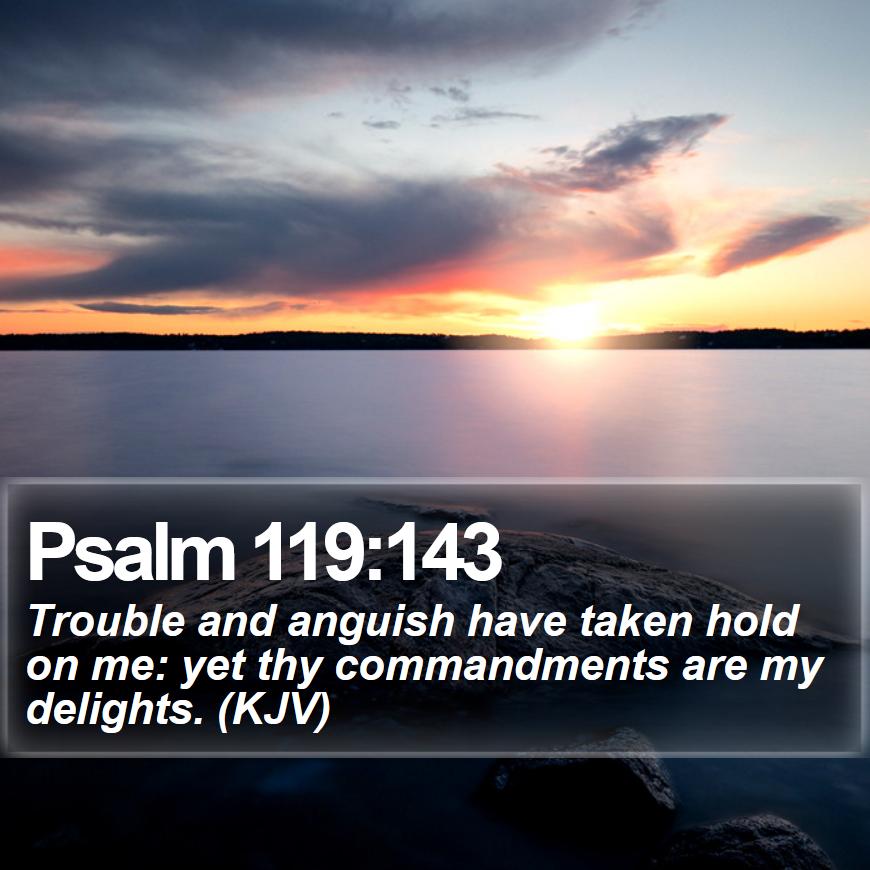 Trouble and anguish have taken hold on me: yet Jesus is my delight! It amazes me how today's dictionaries have diluted the true meaning of a word found in our King James Bible! If one reads today's verse, we merely read the verse and move on. However, when Noah Webster put together his dictionary in 1828, the definitions have entirely different meaning! Take the word "anguish," for example. Noah defines it as:
Extreme pain, either of body or mind. As bodily pain, it may differ from agony, which is such distress of the whole body as to cause contortion, whereas anguish may be a local pain as of an ulcer, or gout. But anguish and agony are nearly synonymous. As pain of the mind, it signifies any keen distress from sorrow, remorse, despair and kindred passions.
I experienced this type of anguish and bear testimony that Jesus was my delight during that time of my life. My husband was slowly dying of an illness that doctors just could not provide relief. I remember sitting in my rocking chair by the window and gazing out at our bird feeder while I listened to beautiful Christian music. I sobbed when I would look at my husband as he slept in his recliner. He was but a shell of a man. This illness had claimed 60 pounds of weight and my beloved was so weak. Through all of this, God's creation, along with the songs' words, ministered to my spirit. The Lord would bring to mind verses I had written or read that morning, as well as verses I had committed to memory. It is during these times with the Lord that my spirit would be healed for the moment.
Have you been there, friend? Jesus gives us comfort through the scriptures.
This comfort brings strength to our hearts and lifts us up so that we can be a blessing to others in order to show them Jesus Christ "with skin"! During these hard times with my husband's illness, I was able to concentrate on this blog and I hope it helped at least one person. I was able to minister to others whose husband was sick.
Take your anguish and turn to the One who provides all comfort! Help others as you were also helped! Amen?