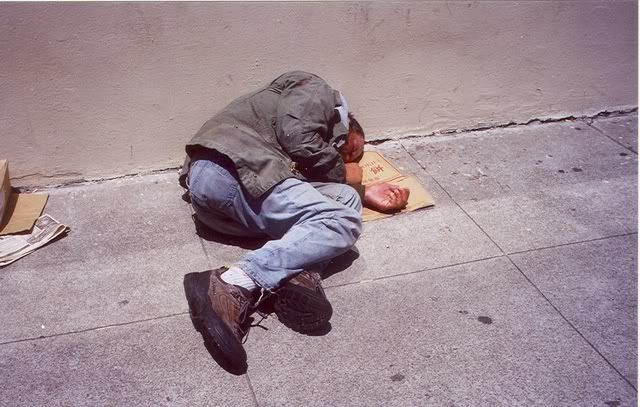 Be ye therefore merciful, as your Father also is merciful. (Luk 6:36) Today's devotional is a long one, but I ask for your patience as it is not a subject that can be dealt with in just a few words. Most of us think that God refers to those "unlovable" people when we read this verse. We think that it is fulfilling the following: Matt. 25:34-40, Then shall the King say unto them on his right hand, Come, ye blessed of my Father, inherit the kingdom prepared for you from the foundation of the world: (34) For I was an hungred, and ye gave me meat: I was thirsty, and ye gave me drink: I was a stranger, and ye took me in: (35) Naked, and ye clothed me: I was sick, and ye visited me: I was in prison, and ye came unto me. (36) Then shall the righteous answer him, saying, Lord, when saw we thee an hungred, and fed thee? or thirsty, and gave thee drink? (37) When saw we thee a stranger, and took thee in? or naked, and clothed thee? (38 ) Or when saw we thee sick, or in prison, and came unto thee? (39) And the King shall answer and say unto them, Verily I say unto you, Inasmuch as ye have done it unto one of the least of these my brethren, ye have done it unto me. (40)
But what about those "prickly" people who are closer to you than strangers? What about those hard to love church folks? What about those estranged family members? What about your own flesh and blood family who have wronged you? Do you think God excluded those from these verses? Are we placing restrictions on God's Word by omitting them from the mercy we should be showing? Is God's love conditional? For when we were yet without strength, in due time Christ died for the ungodly. (Rom 5:6) But God commendeth his love toward us, in that, while we were yet sinners, Christ died for us. (Rom 5:8 ) If God's love is conditional, we would all be in big trouble, for we have all sinned. Why should our love for those I've mentioned be any different? Does God not encourage us throughout the Word to have the same agape love that He has for us? If God took to heart all the bad things we did or said, He would be the first to shun us! Remember the old adage, "Sticks and stones may break my bones, but words will never hurt me"? Easier said than done, right? Broken bones heal but words sure do cut to the core of a person's heart. How does the world react to hurtful words? I remember my old days – get even, that's the only way. The Lord sure has done a work in my heart since then.
However, why is it that we struggle with this more when it is someone right in our own family? These family members are the ones that need our testimony the most. Strangers don't see us as we truly are. They don't see us at home – behind closed doors. Our families see us for what we really are. All the more reason for us to show mercy and compassion to those who are lost or backslidden. Have you been hurt deeply by a family member, my friend? Have you been hurt by a church member? I know I have. Loving those prickly and hard-to-love people is not something we can do in the flesh. We just cannot "make" ourselves love them. But we can love them with God's love. How? Love is a word of motion. Love takes action on our part. God showed us this action by leaving His throne and dying for our sins. That is the ultimate display of agape love. It was not a "sit back and see what happens" love but an action love – "I will go to them and see what I can do for them" kind of love.
If we want to get strong physically, we exercise and build up our muscles. If you want to be stronger in the agape love area, start working at it by doing something for those you find difficulty loving. Christ Jesus was our example, was He not? Then follow His example. Go out there and do something for those you struggle with. Forgive them in your heart and move on. The devil would love nothing better than for you to hold on to resentment and bitterness toward those who have hurt you. You no longer serve him so why obey him? Serve your Father in Heaven instead and put some action to your work.
Are you too afraid to speak to that person face-to-face? Why not send a card or an email? Start "doing" for them as you would a total stranger. Start from scratch and build your testimony once again. If you need to ask forgiveness, then do so. If they wronged you, forgive them and move forward. Let the healing power of the Holy Spirit heal you. This is not an option in a Christian's life. We are commanded, my friend, to love as Christ has loved. This is my commandment, That ye love one another, as I have loved you. (Joh 15:12) Did Christ set limits to His love? Did He only die for certain people? No, He died for all sinners. Therefore, your love for others cannot have conditions. I know this is not an easy thing to hear. But as long as we neglect this great teaching and disobey this commandment, are we not out of the Father's will?
It is difficult to put into practice this same love of Christ, especially if we have been wronged. Let's say that you came up with a great idea for the Easter Cantata at church. You present it to the Choir Director and he excitedly receives it, complimenting you on your idea! The next thing you know, the Pastor announces from the pulpit that the Choir Director has come up with a brilliant play for the Cantata and there is no mention of you! Here you are sitting in your pew and you're beet red and steaming on the inside. How dare the Choir Director steal your idea? After church, folks go up to the Director congratulating him on his idea and he does nothing to indicate that the idea was not his. You feel so betrayed and hurt at this point. You try to figure out whether you should go to the Choir Director directly or tell the Pastor that this was your idea and not the Choir Director's idea. After all, the Pastor ought to know this.
It's when we are at this point that we should think of John 15:12 and put it to action. Yes, you've been wronged. That is no longer the point. The point now is to learn to deal with what has happened and apply Christ's example to your own situation. Christ would not retaliate and hurt but would lovingly bring this person to reconciliation. So must you. Remember that Christ died for you while you were yet a sinner, right? He forgave you before you even sinned. Then forgive this person, no matter if they have offended you countless times. Matt. 18:21-22, Then came Peter to him, and said, Lord, how oft shall my brother sin against me, and I forgive him? till seven times? (21) Jesus saith unto him, I say not unto thee, Until seven times: but, Until seventy times seven. (22) I know it's difficult, but we're commanded to forgive. What would you do if Christ did not forgive "some" of your own sins? Christ did not set limits, nor should we. This is agape love, my friend. Once you have forgiven this person in your heart, you are free from the chains of resentment that are binding you. It no longer matters how you feel. What matters is to bring reconciliation.
The next step would be to face your offender. You would be amazed to find the reasoning behind their motives. It does not mean the offense is overlooked – it just means that you learn how to approach that person and discuss the offense with forgiveness already in your heart. That's the difference. Listen with Christ's heart rather than your own. Using our example, go to the Choir Director and tell him how happy you were that your idea was selected for the cantata and give the glory to God. Then sit back and listen. He will be sure to "hum and haw" and stumble to find the words to explain. It's not easy to listen to excuses and place ourselves in their shoes but it is the right thing to do. Maybe
the Choir Director had his own reasons for claiming ownership. Maybe he had certain events going on in his life that caused him to do this. It does not justify that what he did was wrong but it will help you to understand his reasoning. Maybe he was getting back at you for something you did to him that you are unaware of. This is not right but, it will help you to understand. It does not excuse what he did but it helps you to see why he did it. This is where reconciliation begins. You've already forgiven him prior to the meeting. Now you are working to restoring the relationship. Look at it this way. Can you imagine how Christ felt? He died for you before you even asked forgiveness! Some never ask for forgiveness yet He died for them too.
It's hard to understand this kind of love, but we are commanded to love as Christ loves. Now that you are exercising this love and taking that first step of reconciliation, you can move forward in healing the relationship. You can speak your mind without being harsh because you are no longer dealing with forgiveness – you've already done this. A soft answer turneth away wrath: but grievous words stir up anger. (Pro 15:1) The Word of God has all that we need to tackle each task in life. If you speak non-combative words, you are promised that there will be peace in your conversation. We are also taught how to speak and which words to say. Let no corrupt communication proceed out of your mouth, but that which is good to the use of edifying, that it may minister grace unto the hearers. (Eph 4:29) Whatever you say to the Choir Director, let it be to edify him and to minister grace (goodwill and kindness) to him. If you don't, you are grieving the Holy Spirit in your own life according to God's Word. And grieve not the holy Spirit of God, whereby ye are sealed unto the day of redemption. (Eph 4:30) The conversation with the Choir Director will not be an easy one. There is no "easy" way to tell someone that they have hurt you because they stole your idea. But there is a nice way to tell them. You can point out a sin but yet say it in such a way that this person knows you love them in the Lord. Your goal is to reconcile this person to God and to restore the relationship between the two of you. (If the person you are struggling with is not a Christian, then your goal is the same – you want to point him to Christ so he can be saved.) Go into your conversations after having prayed for God's wisdom. God promises to give us wisdom liberally according to James 1:5.
Can you imagine how the Choir Director will respond if you are enter the conversation already with forgiveness? He will not feel defensive because he will see that your motive is not to get even. Your actions will prick his heart and move him to repent. If he does not, you have already forgiven him and the rest is up to him. You no longer have bitterness and resentment but are free to love him as Christ loves you! If the person is not saved, can you imagine how they are going to view your reaction? They will be seeing Christ in action through you. The Gospel is being spoken through action! What a responsibility we have to show this agape love in our lives – this love is one of motion – always moving forward and upward!
As we grow in Christ, we should be viewing the unlovable and prickly people as opportunities to reconcile them to God. What would we have done if Christ had treated us the way we treat those who are unlovable? Are we any different than they? No, but we have the power through Christ to treat the unlovely as He would. What a testimony we can be! What a powerful message we can preach just in our actions alone! What about that brother or parent you've been witnessing to for years? Have you had fight after fight trying to point out their sin? Has it brought the two of you closer together or has it brought distance between you? Were you successful in showing them their lost condition? Probably not. Have they hurt you in return? There are some things that you just cannot control, and one of them is their reaction. But what you can control is your reaction. With forgiveness in your heart, you are free to love them the way Christ loves them. Put into practice this agape love and start loving them with action. Do things for them – send a card, make a phone call, bake a cake, make a meal when they are sick – but just do it! Put Christ's love in motion and love them unconditionally.
Thank You, Lord, for blessing my heart today!
Dear God…
Agape love is what we need
To show the love of Christ
To those who hurt us deeply
Guide us, help us through Your might.