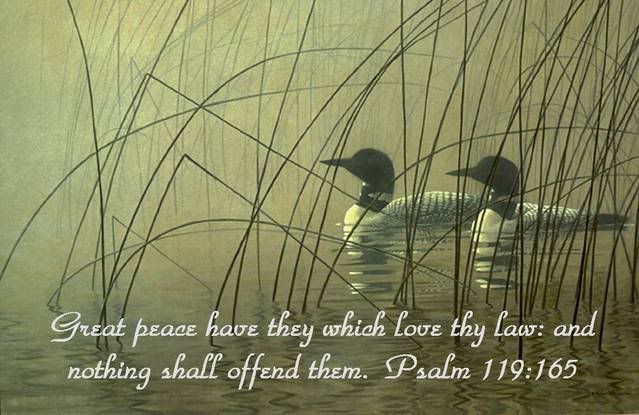 Great peace have they which love thy law: and nothing shall offend them. (Psa 119:165)
I have loved this verse for many years now. The Lord first gave it to me when I was going through some very difficult trials in my life. When God would speak to me through the Pastor's messages, I did not like what I was hearing. I did not want to follow the guidance the man of God was clearly preaching. What he was preaching was too hard for me and I felt that it was too much to bear. Sometimes we look at our trials as a whole and get discouraged. This is what I did. I would look at the big picture, hear the preaching and think to myself that God didn't know what He was asking me to do! Was I ever wrong!!
When the Lord gave Psalm 119:165 to me, it was as though He had reached down and hugged this child. He spoke to me through His Word and said that if I love His Word, nothing in it will cause me to fall or stumble. He would not ask me to do anything that would be bad for me. So, I obeyed the Lord through the preaching and did what was asked. The end result was one of great peace. All the fears I had of what might happen, never happened. I feared the unknown and feared what God would have me to do – all for nothing. God's Word assured me peace if I followed it and it was true!
I pray that you would glean from that testimony and apply it to your own life. I pray that you will see this verse as one that will bring life changing results to you. Let's look at it and pick it apart this morning. The Greek word for "offend" is
H4383
מכשׁל מכשׁול
mikshôl mikshôl
mik-shole', mik-shole'
Masculine from H3782; a stumblingblock, literally or figuratively (obstacle, enticement (specifically an idol), scruple): – caused to fall, offence, X [no-] thing offered, ruin, stumbling-block.
Noah Webster also defines the word in the same manner:
6. To disturb, annoy, or cause to fall or stumble. Great peace have they that love thy law, and nothing shall offend them. Psa 119.
What a blessing this is. God's Word will never bring you harm, my friend. You may hear some hard preaching and refuse to apply it to your life because you feel it is too hard or it will create problems. But God's Word says otherwise. God's Word is not offensive. He would never give us something that would cause us to stumble – It only promises peace.
You may be thinking that you already know this. But let me ask you this. Have you heard a message recently where the Pastor says "A Christian should not do _______!" (fill in the blank)? Were you guilty of whatever it was he said you should not do? If you were guilty, did you stop doing it? Or did you shrug it off. If you shrugged it off, you are sinning. And I will give you pastors according to mine heart, which shall feed you with knowledge and understanding. (Jer 3:15) God's man has been given to your church to feed you from the Word so you can grow in knowledge and understanding, my friend. The Holy Spirit cannot do a work in you if you are not going to respond to the message God has laid on his heart. Obey them that have the rule over you, and submit yourselves: for they watch for your souls, as they that must give account, that they may do it with joy, and not with grief: for that is unprofitable for you. (Heb 13:17) When your Pastor brings your name up before God, is he able to do so with joy or with grief? If it is with grief, the Word says it is unprofitable to you.
You only get your feathers ruffled when it is a sin you don't want to give up. Right? Applying the Word's teachings is not always easy but it brings peace. It is much easier to give up the sin and do what is right than to hold on to it. There is no peace in that. If you struggle with smoking cigarettes and you hear a message against it, does it not stir you up spiritually? What do you do with that? If you ignore it, you cannot honestly say you are at peace with that decision. Chances are you hide the cigarettes when the Pastor comes to visit. Or you are looking over your shoulder to make sure no one from church has seen you with a carton of cigarettes in your shopping cart. You heard the Bible verses the Pastor used to encourage you to quit smoking but you ignore him. You're actually ignoring the Lord. This sin is not too great for you to give up, my friend. God promises that there is peace awaiting you.
Everyone has an area in their lives where they struggle. Why do we think that ours is unique and is just too great to give up? It's because we are not in the Word of God the way we should be. Don't be angry with the Preacher for preaching God's Word. If you are, Psalm 119:165 cannot be a verse you can claim. Instead, submit to the preaching and allow the Holy Spirit to do a work in you. There is nothing that you are experiencing right now that you cannot overcome, my friend. There hath no temptation taken you but such as is common to man: but God is faithful, who will not suffer you to be tempted above that ye are able; but will with the temptation also make a way to escape, that ye may be able to bear it. (1 Cor 10:13)
God promises peace and He gives peace. The only thing we have to do to obtain that peace is to be in His Word. How hard is that? D.L. Moody once said, "The Bible will keep you from sin, or sin will keep you from the Bible." If things are going wrong and you are overwhelmed, look at your Bible life. If you are on the verge of a marital break up, look at your Bible life. If you are struggling with gambling, look at your Bible life. Every part of our lives stems directly from the time we spend in the Bible and our obedience to its teachings. This is what separates the men from the boys. I constantly meet people who live defeated Christian lives. There is always something wrong and they seem to have one problem after another. Being around them is exhausting because they are negative and constantly complain. When they ask me what to do, I immediately ask them if they are in the Word every day. Every single response reflected little or no time had been spent in the Word! Can you believe that? And they wonder why they are going through these trials and feel overwhelmed? There is no peace there and it is evident why. I also have met Christians who are going through tremendous trials but you would never know it. Why? Because these Christians are in the Word, applying it to their lives and gleaning God's peace.
Why struggle when you can have that sweet peace that only God can give His children? He waits to give it to you. Why ignore Him? Spending time in the Word and yielding yourself to it produces that peace. These negative people seem to enjoy living this way – constantly defeated. Do you actually enjoy the unrest in your spirit? Do you actually want to continue to live with such a dark cloud over you? Maybe you are the kind of person who loves the attention you get because of it. Believe me, the only attention you are getting is from people who are in the same situation as you are. You are like a person who is drowning – you are looking to others who cannot swim to help you. Instead, you should be looking to others who can provide you with a life preserver!
You can turn yourself around, you know. Sure it will mean setting aside time to read the Bible and study it. Sure it will mean that you will have to apply what you learn and give up those sins that God places on your heart. Sure it will take an effort on your part, but wouldn't it be worth it? If you're miserable, Christian, it's because you choose to be miserable. The sad thing is that you bring down those around you, too. You will have much to account for when you stand before the Lord. Wouldn't it be easier to submit to God's Word today? Great peace have they which love thy law: and nothing shall offend them. (Psa 119:165)
Thou wilt keep him in perfect peace, whose mind is stayed on thee: because he trusteth in thee. (Isa 26:3)
LORD, thou wilt ordain peace for us: for thou also hast wrought all our works in us. (Isa 26:12)
Dear God…
How can I know You if I don't read
Your Manual on life
This can only bring me grief and pain
Causing me much strife