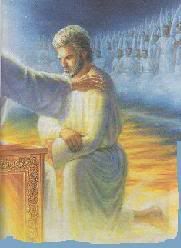 Thou wilt shew me the path of life: in thy presence is fulness of joy; at thy right hand there are pleasures for evermore. Psalm 16:11
God is the one who brings salvation. Without the Holy Spirit pricking the heart of man and leading to conviction, there can be no salvation. But the salvation of the righteous is of the LORD: he is their strength in the time of trouble. (Psalm 37:39) Salvation is of the LORD. (Jon 2:9b)
There is no greater joy and no greater pleasure than to be at the right hand of the Lord for ever more! There is something about the term "at the right hand" that struck me this morning. In America, it is common knowledge that the conservatives are "right-wingers" and the liberals are "left-wingers." The right hand of the Lord is referenced in Scriptures. The voice of rejoicing and salvation is in the tabernacles of the righteous: the right hand of the LORD doeth valiantly. (Psalm 118:15) The right hand of the LORD is exalted: the right hand of the LORD doeth valiantly. (Psalm 118:16)
I did a search for the phrase "the right hand of God" and found it interesting that it appears eight times. All eight occurrences are in the New Testament. All eight occurrences refer to Christ being at the right hand of God. Christ's blood convenant was a new beginning for mankind. We no longer had to sacrifice animals but had the Perfect Sacrifice covering our sin and making payment for our punishment! The number eight is commonly known to mean "new beginnings." How appropriate it is that there are eight verses referencing Christ!
So then after the Lord had spoken unto them, he was received up into heaven, and sat on the right hand of God. (Mar 16:19)Therefore being by the right hand of God exalted, and having received of the Father the promise of the Holy Ghost, he hath shed forth this, which ye now see and hear. (Act 2:33)
But he, being full of the Holy Ghost, looked up stedfastly into heaven, and saw the glory of God, and Jesus standing on the right hand of God, (Act 7:55)
And said, Behold, I see the heavens opened, and the Son of man standing on the right hand of God. (Act 7:56)
Who is he that condemneth? It is Christ that died, yea rather, that is risen again, who is even at the right hand of God, who also maketh intercession for us. (Romans 8:34)
If ye then be risen with Christ, seek those things which are above, where Christ sitteth on the right hand of God. (Col. 3:1)
But this man, after he had offered one sacrifice for sins for ever, sat down on the right hand of God; (Heb. 10:12)
Who is gone into heaven, and is on the right hand of God; angels and authorities and powers being made subject unto him. (1 Pet. 3:22)
Doesn't that excite you? It does me!! There are no coincidences with God's Word. Everything in God's Word is there to excite us, teach us and keep us fed!
Father, God, We Glorify
John & Charles Wesley

Father, God, we glorify
Thy love to Adam's seed;
Love that gave Thy Son to die,
And raised Him from the dead:
Him, for our offenses slain,
That we all might pardon find,
Thou hast brought to life again,
The Savior of mankind.
By Thy own right hand of power
Thou hast exalted Him,
Sent the mighty Conqueror
Thy people to redeem:
King of Saints, and Prince of Peace,
Him Thou hast for sinners giv'n,
Sinners from their sins to bless,
And lift them up to Heav'n.
Father, God, to us impart
The gift unspeakable;
Now in every waiting heart
Thy glorious Son reveal:
Quickened with our living Lord,
Let us in Thy Spirit rise,
Rise to all Thy life restored,
And bless Thee in the skies.